Partners
11.09.2015
New web­portal dedicated to green tourism was created for Odessa region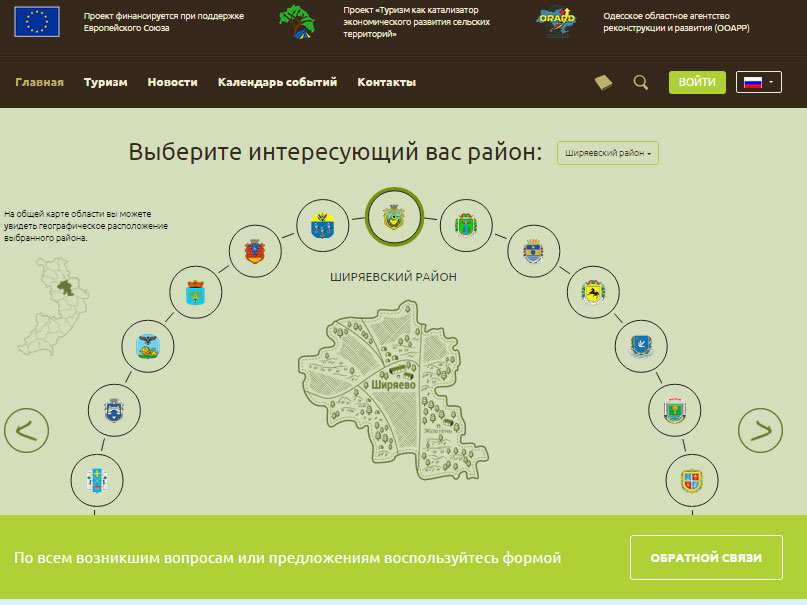 New web­portal dedicated to green tourism was created for Odessa region ­ greenodessa.com. This website allows its users to take a look on all region's green tourism services, as well as get useful information for stakeholders. This initiative was implemented under supervision of the Odessa regional agency for reconstruction and development within the project 'Tourism as catalyst of rural economic development', which is being funded by the European Union.
Website structure is designed for the easiest access to tourist objects, news and other useful data. Thus, users can navigate through map of regions, each one of which has its unique objects. Event calendar can also be found within the website structure. Each registered user can create his\her suggested tourist objects or routes.
This web­portal is designed around the idea of self­fulfilling content (each stakeholder registers and fills the data by himself). Moreover, a knowledge base with useful data regarding green tourism business is available to all registered stakeholders. Green­tourism web­portal has basic content and runs in test mode, however it is not enough to sustain its proper functioning. That is why we will be grateful if more stakeholders of Odessa region register and add their own content. We also look forward to your feedback.
It should be mentioned, that the project 'Tourism as catalyst of rural economic development' which started in 2014 aimed at development of tourist infrastructure of rural areas of Odessa region. Thus,two camping parks in Bilyayivsky and Rozdilnyansky districts will be created. Project will last 24 months; total budget is 380 000 EUR.