Partners
27.03.2015
Future camping-site was presented in Mayaki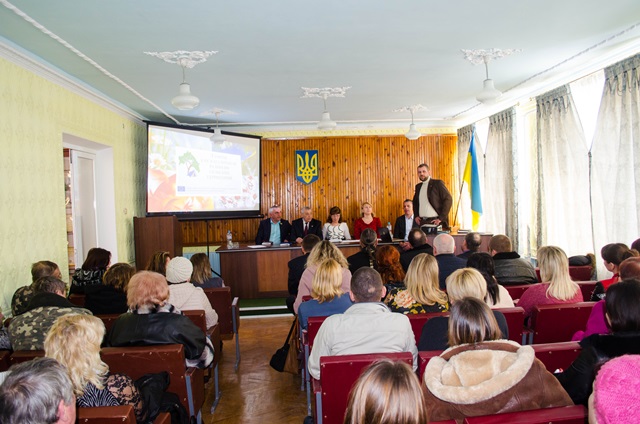 In village Mayaki (Bilyaevski rayon) the project of future camping-site was presented to the local community. Recall, that the camping-site is situated on the bank of the Dniester river, near the road of international significance Odessa-Reni. And this camping site is a part of the project "Tourism as a catalyst for the rural economic development", implemented by the regional agency of Reconstruction and Development (OOARR) and funded by the European Union.
President Sergey OOARR Kalabin during a meeting with rural community told in detail that this is not camping business project of a private company created solely as a social initiative, which is 90% financed by the EU. The main target of the camp construction - the creation of new business initiatives in trade and service network that will be able to maintain a high level of arriving tourists.
"You all have to understand that today the tourists, who came to your area with ​​300 dollars in pocket, not even able to spend these money. All he can get now - number in the hotel and dinner in the restaurant. It can not book a tour on the Dniester, can not swim kayaking, can not ride horses. But all these must be revealed at the camp, along with the tourists' flow", - says Sergey Kalabin
Speaking about the reaction of local community, all of them were satisfied, but a little bit concerned. The fact that several years ago in Mayaki  one private company also announced the creation of the green tourism object - boating station. But then it turned out that instead of the station was built village cottages with a closed area. Therefore, understanding the fears of villagers, Sergey Kalabin offered locals activists and representatives of  NGOs to monitor daily progress of the construction work.
Project "Tourism as catalyst of rural economic development", which began in July 2014, aims to develop tourism infrastructure in rural districts of Odessa region. Thus, the project plan will create two campgrounds in Bilyayevsky and Rozdilnyansky areas. Also soon will open a tourist information center in Split where local authorities interested in active development of tourism. The total duration of the project is 24 months and during this period will be spent around 380 thousand euros.