Partners
25.03.2015
Participants of the green tourism project hold a creative meeting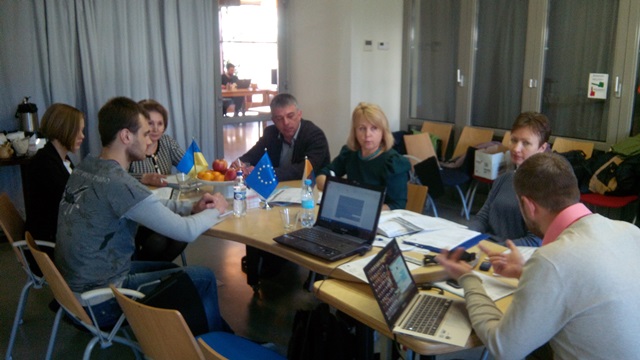 Participants of the project "Tourism as a catalyst of rural economic development" hold another working meeting. This time, the meeting place was not in the business center or conference-room. Instead of this they choose Odessa co-working hub, where the whole atmosphere is full of creativity.
So there was a very active debate about participation Bilyaivsky and Rozdilnjansky rayons in tourism exhibition "International Assembly of Tourism Business". All the participants came together to the opinion, that would be much better if their exhibition stands areas will vary in appearance from other places, usually representatives of the tourism industry. Now, the project coordinators in areas tasked to find and to engage representatives of local tourism to the exhibition. At the same time employees of the Odessa Regional Agency for Reconstruction and Development will make the original stand.
Another important issue of the meeting - the opening of a tourist information center in Rozdilna. It is already repaired and in the shortest time planned to buy furniture and computer equipment. All participants of the meeting agreed that the opening of the center should be solemn, because it is a symbol that another area in ​​Odessa region officially joined the Ukrainian tourism infrastructure.
The last question of the meeting can be named traditional - the current state of the camping sites creating in and Bilyayevsky and Rozdilnyansky rayons. Despite significant progress in addressing a number of administrative problems in each of the areas there are personal reasons for its concentration of effort. Thus, in the Bilyayevsky rayon they already started work on clearing the site, but have not eliminated some obstacles to documentary making regular payments from the local state treasury. Speaking about the area in Rozdilnyansky rayon, now the process of obtaining permission for construction work on the camping site.
Project "Tourism as catalyst of rural economic development", which began in July 2014, aims to develop tourism infrastructure in rural districts of Odessa region. Thus, the project plan will create two campgrounds in Bilyayevsky and Rozdilnyansky areas. Also soon will open a tourist information center in Split where local authorities interested in active development of tourism. The total duration of the project is 24 months and during this period will be spent around 380 thousand euros.